MISSION ACCOMPLISHED!!! Official time…
4:46:29
. In short, I had a horrible run…bloody awful. But, I finished!!! And I couldn't be happier.
As you probably know, I spent the last two days terrified. Extremely nervous about the race and my aching hip. To my surprise, neither my hip or even my knee were a factor in my pitiful run. Things weren't right from the get-go. I finally got to sleep around midnight and got up at 5:30a. Not a bad night's sleep. I think I slept less the night before both of my half marathons. I had my usual quick oats with raisins and cinnamon. I ate a slightly bigger bowl than usual. I drove myself downtown. Parked and geared up by 7a. Waited in line to relieve myself and spent about 10 minutes stretching out. This was likely, mistake number one. I should have stretched out longer. I was too eager to get up into the crowd at the start line. After the usual fanfare we were OFF! at 8a.
The run started well. I was happy that my hip wasn't bothering me and just concentrated on digging in. This proved to be difficult. There were so many twists and turns in the opening miles and lots of small hills. We finally got out to the river park and things loosened up and I gained my focus. Around mile 8 was when I began to realize that I did not have my usual energy and strength. I knew there was trouble ahead. Things went fairly well through 13. I was around 2:05 at the half way point and was keeping a nice, slow steady 9:30-ish mile. Then from there, things began to unravel…and fast! By 15 or 16 I had slowed up the pace. I began getting the 'jelly legs' and felt like I had no energy. I was eating and drinking regularly, but the gels weren't giving me the usual boost. By the loop around at 17 I was beginning to struggle. I began getting terrible cramps in my calves and rear of my thighs. I wasn't alone. Many others around me were beginning to struggle too. So strange to see these guys that were tall and athletic looking, yet crying out in pain. By 20, the cramps were unbearable. I spent the next 6.2 miles walking, jogging, walking, jogging. I probably stopped no less than a dozen times to stretch my calves out during this section. The final 1.5 came and I walked up the ramp over the CT River bridge. There was a nice downhill into the city and I decided I wasn't going to walk anymore. I was having violent calve contractions this entire 1.5. My wife and kids were screaming in the stands at the finish line and it was GLORIOUS. It was a very tearful reunion when I came out of the chute. I was completely overwhelmed and cried like a baby


So, I don't know what to chalk it up too. Maybe I didn't eat enough, and I lost way too much weight in the final month (158lbs this morning). Maybe I should have stretched out better. Maybe the ibuprofen I took earlier this week for my hip drained my reserves. Whatever. It was an insane experience, and despite the struggles, I am so proud of myself. It'll be something I'll remember forever. A HUGE check on my #bucketlist. I'll be looking forward to training for another half marathon or two in the coming seasons.
A few random notes…pedro, the girl in the pink shorts passed me…and she was spectacular! I saw runner 666 run past on the long loop around…I flipped him the devil horns! \m/. I also passed a guy in a banana suit and told him how much I hate eating bananas

Pedro/NotBaker…your encouragement and advice, throughout the entire training process, has proven invaluable. Thank you from the bottom of my heart. Despite the fact that we have all never met, I feel like we're bonded brothers.
NOTBAKER…..KICK SOME ASS TOMORROW!!!! Stretch long and hard!!! Rock on!!!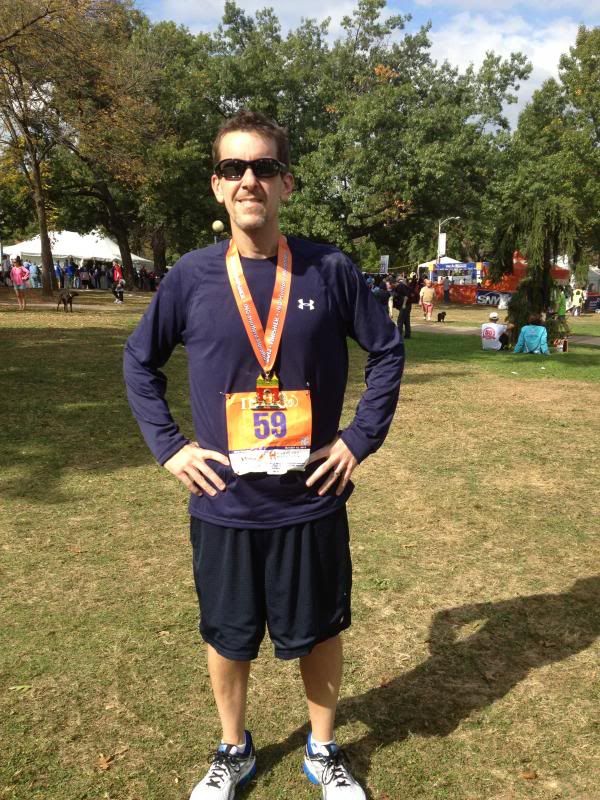 Many more pics to follow...
GO SOX!!!